Introducing CEE
control · experiment · explore
cee is a flexible analog interface device.
Measure and source voltage and current to explore electronics, physics, chemistry, and more.
We built CEE to give curious makers, students, and engineers capabilities that are normally found only in expensive, bulky, and hard-to-use lab equipment.
Reconfigurable hardware, the easy-to-use Pixelpulse web interface, and powerful APIs allow you to explore the world like never before.
Applications
Electronics
Measure the AC and DC characteristics of attached parts
Control voltage and current in real time
Visualize and generate waveforms (audio frequency oscilloscope and function generator)
Physics
Measure mechanical efficiency and motor constants
Explore the relationship between power, energy, and temperature over time
Chemistry
Measure pH over time with off-the-shelf probes
Control electrolytic cell potential and reaction rate
Explore battery charge and discharge profiles
Pixelpulse
The CEE user interface that's powerful yet simple.
Details
CEE is a two-channel, two-quadrant, three-digit source measure unit.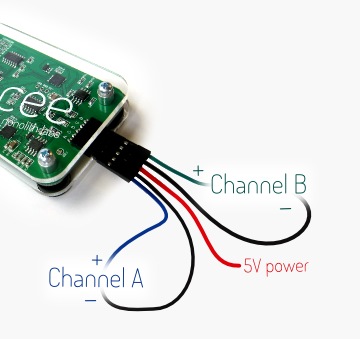 CEE provides an extremely flexible analog interface, allowing you to connect your computer to the real world.
2 source-measure channels
0–5V range
Source or sink 200mA per channel
80,000 samples per second
USB-powered — one cable
Assembled in the USA.

Cross-platform
Compatible with Windows, Mac, and Linux.
Developer API
The simple REST API lets you script your CEE for complete flexibility.
Open Source

Schematics and board layouts are available under a Creative Commons CC-BY-SA license. Firmware and software are under the GNU GPLv3.